Herington, KS
1945
1st Lt. Joseph F. Callaghan
Born: Sept 9, 1916
Died: Dec 29, 2004
Inducted U.S. Army Nov.1940
Training:
Radio operator/mechanic Scott Field IL.
Flight training Stamford TX.
Navigation school Ellington Field TX.
Radar school Boca Raton FL.
After all these schools, my family thought I would have more class pins than medals.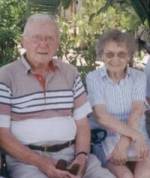 Joe & Beulah Callaghan
27 April 2002
Aug 8,1944, Married Beulah M. Tingley at Boca Raton, FL.
Assigned to 39th Grp. 60th Sqd Crew 10 at Smokey Hill Air Base Sept 1944. Trained there and at Batista Field, Cuba until March '45 when the Group left for Guam.
We flew many combat missions, and then it was decided to use our crew to take radarscope pictures of various targets to determine the most favorable approaches. We flew all of these missions without escort or bombs. The targets we flew over were from one end of Japan to the other. On one mission we flew from Guam to Hokkaido, the most northern island of Japan. We were in the air 23 hours. We each had a can of pineapple juice and two sandwiches.

We were all glad when we dropped the bomb, but I was most happy because our Jo Ann arrived Aug. 18, 1945.
Click image to enlarge

Tsuyama Recon Mission
15,000 ft
27 July 1945

Crew 10 flying over Admiral Halsey's 3rd Fleet located off the coast of Japan at night. P-10 was flying a solo recon mission to Tsuyama 27 July 1945.

"I took the radar picture from my radar scope. We were very lucky we did not get shot at, but the Navy must have known who we were. I called to turn the IFF which was a radio signal to identify friend or foe." Joseph F. Callaghan, Nav.

"We were all suprised" Joe adds.

"These missions were boring but at times had much anticipation. There were times stars were thought to be enemy planes. Once it was reported that there was something wrong with the moon, it was a total eclipse of the moon and made our trip a little safer. The scariest was the night Elmer Jones called me to look at the radarscope it was covered with dots and circles. We were passing over the 3rd fleet. We got our IFF on and hoped they would pardon the intrusion. Needless to say they did, and on our way home we did it again. It was great waste of many good young men. It took eleven of us to fly P 10 and we did a good job."