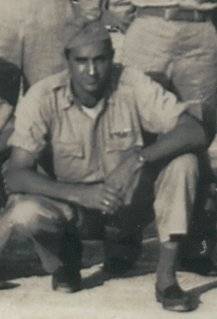 Capt William F. Barthel,
Navigator 1945
Born 11 November 1917 in Chicago, Illinois. He entered the service on 23 May 1942, while living in Mississippi.
His training included Aerial Gunnery - April 1942; Advance Navigational Training - May 1942; Radar Course - August 1944 and Flux Gate Compass Course October 1944.
William was originally assigned to Crew 1 (Capt Allen Miller's crew) assigned as Navigator. On 28 November 1944 - while still stateside during training 10 miles from Smoky Hill Army Air Field about 35 minutes after take off.

Click here to read a 1944 newspaper article # 1
Click here to read a 1944 newspaper article # 2
Barthel was one of the lucky ones to have survived.
The following is from comes from Rowland Ball, friend and fellow Navigator (P-3).
"The bailout procedure for a B-29 was for the Navigator to go first and the Flight Engineer to follow him. The Navigator, Bill Barthel, was a friend of mine and he told me about this experience. He said that when he bailed out he pulled his ripcord almost immediately because he knew that he was very close to the ground. His chute opened quickly and almost at the same time he hit the ground. He landed in a damp freshly plowed field that probably kept him from breaking his one or both of his legs. He gathered up his chute, looked around and saw a farmhouse close by. Bill walked to the back door of the farmhouse and knocked on the door. An elderly woman came to the door, opened it and there stood this man in these weird looking clothes with a big piece of white silk thrown over his shoulder and it scared her to death. She started screaming and her husband came running out with his shotgun. Bill had to do some fast-talking explaining of who he was and what he was doing at their back door. They did have a phone so he was able to call the base and tell them what happened and to send someone out.
The Flight Engineer popped his chute early too, but he came down in a cemetery and hit a tombstone and broke his leg. The Engineer never did fly again, but Bill was up again in a couple of days."
Bill went on to serve with Capt John Miranda (Crew 13). On 26 June 1945, Miranda was leading his element on a daylight strategic attack on an arsenal complex at Nagoya. Their plane was struck by a 120mm shell that suddenly tore about eight feet off the P-13's right wing, knocked a couple feet off its aileron, and put the outboard engine out of commission. Being behind and just below Miranda, a section of their wing and other smaller pieces came back and narrowly missed crashing into us. Seconds later another burst tore off half of the left door of the forward bomb bay, knocked open the other three doors and jammed the closing mechanism. As a result, their right inboard engine backfired and coughed in a further loss of power.
Barthel, 2nd Lt Donald A. Gerth, Pilot; S/Sgt Wilbur A. Pickens, Radio Operator; and Lt Oscar Price, Bombardier, went into the front bomb bay in an effort to close the doors. Their emergency efforts were to no avail.
With the "City of Galveston" at less than 2000 feet, the crew began to jettison equipment and supplies in a desperate but losing effort to stay in the air.
With the aid of Crew 5, Crew 13 was able to navigate near a submarine. In less than hour the Barthel and other member of Crew 13 were aboard the rescue sub. Click here to read the July 9, 1945 newspaper article
William Barthel went on to fly 14 missions which included Air-Sea Rescue duty in Hawaii during the Sunset Project with Crew 7 - Capt Chester Juvenal's Crew - replacing Dale Barton as Navigator.
He was honorably discharged from the service on 10 April 1946, San Antonio, TX with the rank of Major. He was awarded the Air Medal and 1 OLC, Asiatic-Pacific Theater Ribbon, American Campaign Medal, World War II Victory Medal and the American Defense Medal.
He graduated in business from Mississippi State University. He was in private business for approximately 60 years in Rayville, LA. and was the owner of Barthel Meat Packing Company and Barthel Realty.

William and his Reba have 5 children, 2 daughters; 3 sons (one son deceased); 12 grandchildren and 5 great grandchildren.