Gunner's Badge

Decorations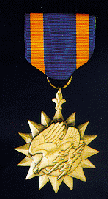 Unit Citation
and Awards

with

Service Awards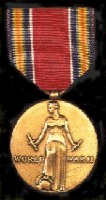 Click on the name of the Decoration, Service Award, or Ribbon Device to learn the criteria
[Search Tip: Use " " for better search results ex. "John Q. Doe"; "City of ..."]
Cpl Martin E. McDonough
Left Gunner
The following was prepared by Martin McDonough of Crew 43 as a mailing to his friends upon leaving home for the Army in March of 1945
GREETINGS ONE AND ALL:
My invitation from my debarkation from this nation was recieved with jubilation - my transportation from this reservation to my POE station is practically in high gear - my embarkation to some island of isolation is quite an initiation and will probably merit me a citation which I can undoubtedly can do without. However, due to the situation necessitating Pacific liberation - I am off to war.
The above was written while in Topeka, KS. 1945
POEM FOR THE OCCASION
Out on the line lies a B-29
Waiting impatiently on the line
It's stocked with gas and loaded with oil
and off in the distance lies hours of toil
The crew chief says "condition fine"
Excluding 10 other men it's all mine - All mine
In months to come we'll slave and slave
And hope it won't take us to a watery grave
To far off lands away we soar
SO LONG JACKSON, WE'RE OFF TO WAR


Poem for the Occasion - was written in Sacremento, CA, where P-43 had flown after picking up their B-29 - 1945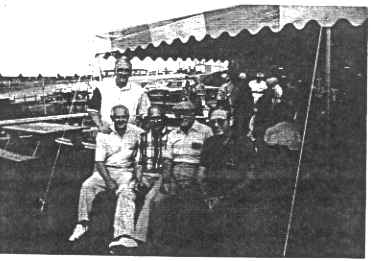 Harrisburg 1991 - Standing - Martin McDonough

Seated: L to R: Paul Kasmer, Glen Durkin, Jim Wilks and Tommy Mayfield
Martin T. McDonough took his Finial Flight on 12 January 2014.
Crew 43 Main Page
62st Squadron Crew Index