M/Sgt Lloyd Geringer
1945
Lloyd was born February 16, 1917 in Wauseon, OH, where other than his service years, he spent his entire life. After graduation from high school, he enrolled in a diesel school in Detroit, and upon completion became employed as mechanic, a job he held until the time of his enlistment in the Army Air Corps in March of 1941.
Geringer was stationed at Chanute Field, IL where he received training in the maintenance and repair of various aircraft engines - especially the large 2,200 hp Pratt and Whitney.
While at Chanute, Gary persuaded his hometown sweetheart, Virginia Hammontree, to visit him there. They soon decided to get married. On January 18, 1942, they exchanged wedding vows at University Christian Church, Champaign, IL.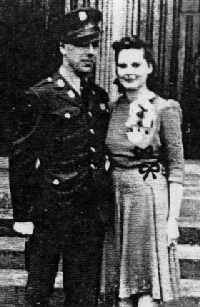 Lloyd and Virginia - 1942
His next assignment was Lincoln AFB, NE for about one year and a half, then on to Boeing Aircraft Company in Seattle, birthplace of the superfort. He gained first-hand experience in learning how the B-29 was built and its many revolutionary systems.
After completion of training at Boeing, Geringer joined a unit at Lowery Field, Denver, and from there was sent to Salina, KS, where he became flight engineer for Crew 44 of the 39th Bomb Group.
Early in January of 1945, it participated with other crews of the 39th in over-water training at Batista Field, Cuba. Shortly after the crew's return to Salina, they flew to Herington, KS for overseas staging, and then onto Mather Field, Sacramento, CA for embarkation to North Field Guam.
Within a short time after their arrival on Guam, Crew 44 was scheduled to fly a search mission for a crew that had ditched following a mission over Tokyo. It proved to be their longest mission - 19 hours and 15 minutes. No survivors were found.
Geringer loved to work on engines and would spend hours on the parking apron with Crew Chief, Bill Hayms (then Hehe), assisting he and his crew of three preparing the aircraft for its next strike.
Geringer was discharged from the Army Air Corps late in 1945 with the rank of Flight Officer. He had been awarded among other medals the Distinguished Flying Cross (DFC), three Air Medals and two Distinguished Unit Citations.
He returned to Wauseon and went back to his old job at P.J. Motor Sales. When the Ohio Turnpike opened in 1955, the Commission hired him as a mechanic. There he worked for over 25 years and retiring in 1981 as head mechanic.
Gary's interest in the Group never waned over the years. He and Virginia never missed a crew reunion and were at the 39th get-togethers in Omaha and Harrisburg.
He passed away October 5, 1991 - according to the "List of Known 39th Bomb Group Members - Post War"
Lloyd and Virginia - 1991