Gunner's
Badge
---
Decorations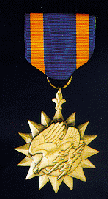 ---
Unit Citation
and Awards


with
Oak Leaf Cluster

---
Service Awards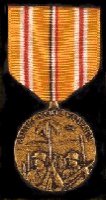 with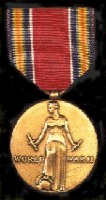 [Search Tip: Use " " for better search results ex. "John Q. Doe"; "City of ..."]
S/Sgt Ivan Lee. "Ike" Weaver
Right Gunner
Born 10 April 1925 in Ithaca, NY. Ivan was the son of James E. and Elvira Weaver. He was raised on the family farm in Ithaca and attended Cornell University after graduating from Ithaca High School.

Flying was a life-long passion for Ivan who at the age of 16 received a scholarship for flying lessons. On 3 June 1943, Ivan joined the U.S. Army Air Corps.

Ivan was Honorably Discharged from the service on 2 December 1945 at the rank of Staff Sergeant.

He attended air shows whenever possible and supported the B-24 and B-29 Squadrons of the Confederate Air Force. It was an honor for Ivan to be a Confederate Air Force member on "FIFI".

Music was another important part of Ivan's life. He belonged to the Musician's Union for many years and played with several groups for Square Dance Bands. He could play any instrument that had strings but his favorite was the guitar, banjo, fiddle and mandolin. During the day he worked as electrician with Local #241-IBEW in Ithaca. He retired from the Union in 1975 following 29 years of service.

Ivan was a member of the Trumansburg United Methodist Church, the Trumansburg Lodge #157 F&AM, the Arthur E. Boution American Legion Post #770 Trumansburg and the Trumansburg VFW Post #5498.

Ivan had 7 children, 12 grandchildren and 6 great grandchildren.

Ivan was very proud of his 7 children and their accomplishments. He was a very loving grandfather whose memory will live on in their hearts forever.

Ivan Weaver passed away on 9 July 2000 at the age of 75; buried at Grove Cemetery with full military honors on 12 July 2000.
Crew 60 Main Page
62nd Squadron Crew Index