Decorations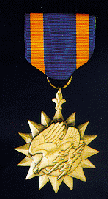 Unit Citation
and Awards

with

Service Awards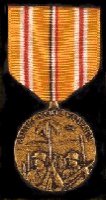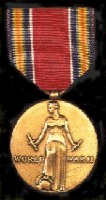 Click on the name of the Decoration, Service Award, or Ribbon Device to learn the criteria
[Search Tip: Use " " for better search results ex. "John Q. Doe"; "City of ..."]
Robert M. Bettinson
| | | |
| --- | --- | --- |
| | | |
| 1946 | | 1991 Reunion |
Training

MOS

Course

Location

1942-43 CPTP

Pilot Training
Philadelphia, PA

525

Basic Training - May 1943
Atlantic City, NJ

747

Airplane Mechanic
Goldsboro, NC

685

Aircraft Electricial Specialist
Rantoul, IL

611

Gunnery School
Harlington, TX

748

Flight Engineering
Harlington, TX
With LTC. Robert Bettinson's entrance into the Army Air Force during April, 1943 at Camp Boardwalk, Atlantic City, NJ, being stationed at the President Hotel on the boardwalk gave him many off-duty hours of participation with Coastal Base # 1 at Bader Airfield, NJ, two city blocks from the President Hotel.
Then Pvt. Robert Bettinson served Coastal Base # 1 wherever needed: in communication, operations or as an observer. Capt. Wynn Parr was Base # 1 Commander. He was concerned with his flight crews flying submarine patrol while escorting cargo ships and oil tankers up along the coast. Low altitude flying to obtain some accuracy in bombing a target and escaping safely from the concussion of a blast and being sure a bomb would not be wasted by missing its target, were some of Capt. Farr's concerns.
Discussions of ideas for a bombsight followed and Pvt. Bettinson, AAF came up with the idea of using a soup can. With permission to use the maintenance workshop at the President Hotel, and some used soup cans, the "Campbell Noodle Soup can bombsight" was born. Crude as it was, flight crew training in its use proved near-accuracy of up to eighteen hundred feet (1,800 ft.), a safety get-away margin from an exploding bomb or a German submarine. With aircraft carrying a 100 pound bomb usually at altitudes of five hundred feet and lower, a more sophisticated bombsight came into play shortly after the soup can bombsight, also designed and built by Pvt. Bettinson, AAF for Coastal Base # 1's use at higher altitudes. These units, little known by most members, were kept in guarded possession of Capt. Wynn Farr. After operations were suspended at Base # 1, two of the three units built by Pvt. Bettinson, AAF, the original "Campbell Noodle Soup can bombsight" was left with Capt. Wynn Farr as a keepsake. The "Bettinson Bombsight", which looked like a sling shot with an adjustable left/right wind drift "T" bar and an azimuth rod, was placed in the custody of Commander Joseph Sirncock, U.S.N., Philadelphia Naval Supply Depot.
Robert M. Bettinson -Lt. Col (Ret)- Civil Air Patrol

One of the original founders of the Massachusetts Wing

Having begun a career in aviation with the Civil Air Reserves, in radio communications and cadet flying school at Kelly-King field in East Taunton, Massachusetts, under the command of Lieutenant Allison MacComber, USAAC during 1940 and 1941. On January I enlisted into the Civil air Patrol programs and also the military CPTP to train as a liaison pilot at the Boulevard Flight School which was located across Route 1 from the old Naval Air Base on the corner of Red Lion road. Today it is known as Philadelphia Northeast Airport or may have changed to North Philadelphia airport.

About May 1943, I was shipped to Atlantic City, New Jersey for basic training. On weekends, Coastal Air Patrol personnel of the Civil Air Patrol were in need of training as over water pilots, aircraft and submarine identification and the use of the Campbell Soup Can Bombsite and a second bombsite. This looked like a slingshot, with a "T" bar for Left/Right drift and an Azimuths rod for altitude drop. These two bombsites are now in the Taunton Historical museum, Taunton Massachusetts. One hundred-pound bombs were used on German U-boats and small dye bombs that left a silver dye trailing a diving U-boat until a Coast Guard ship could move into the area.

Later I was sent to Seymour Johnson Field at Goldsboro, North Carolina to train in engine maintenance and onto Chantue Field at Rantoul Illinois for specializing in B-29 electrical systems and the use of Selsyn motors in systems control.

Having had flight training in the Douglas Dauntles as a co-pilot and gunner always looking beyond my rudder. The C-45 was always my favorite aircraft and with one bad habit, a crack in the wing spar would break and the wing would fold up over the fuselage and we all know what happens.

I next went to Camp Spring, Maryland, outside of Washington D.C. for additional training then to Harlington, Texas for flight engineer and gunners training. Then to Wichita, Kansas then Colorado Springs, Colorado and finally to North Field on Guam early 1945 in the Marianas with an assignment to the 39th Bomb Group. Having received flak in the head from my first mission to Kobe sometime in June 1945. Apparently, flak had hit me in the head. That was the last thing I remembered. I woke up five or six days later not remembering anything about the flight. A few days later a gentleman came and said he was pilot Ed Arvin. Later, I was assigned to Wing Headquarters and presented the Air Medal and Purple Heart before being sent to Camp Anza California, then to Fort Devens, Massachusetts for an Honorable Discharge.

I believe in 1998 while at a civil war re-enactment with the 18th Regiment Massachusetts Volunteers, blood starting flowing from my WWII head wound. It took about fifty plus years before it emerged loosely from the skull.

I will always be thankful to the boys who took care of me while unconscious on the B-29 aircraft and getting me to the field hospital in time.

Thanks again, "Bob" Bettinson Lt. Col. Retired
---
"Captain of the Calvary"


Captain/Chaplain 18th Mass.Volunteers
(re-enactment group)

Captain/Chaplain 11th Mass. Volunteers Ceremonial unit who show their pride on Memorial Day and on other such occasions honoring those of Civil War and other wars...

Captain/Chaplain of Union/Confederates Veterans, a group of indivdual re-enactors joined together to futher the interest and provide instruction to those interested in pursuing the hobby of Civil War reenactment
Danielle Green, granddaughter of Robert M. Bettinson, notified us that her grandfather took his final flight on 30 May 2006.
62nd Squadron Crew Index