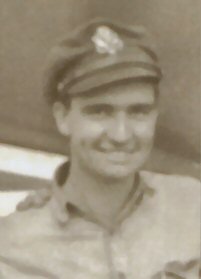 Guam 1945
Gordon Allen Anderson, the son of Arthur and Bertha Anderson was born June 22, 1915. He grew up in North Minneapolis. He graduated from North High School and the University of Minnesota. He received his private pilot's license at Flight School, Kelly Field, Texas.
With achieving his goal of becoming a pilot, He enlisted in the Army Air Corps 12 January 1942 (according to WWII Enlistment Records) and ultimately became Airplane Commander of the Crew 24's "City of St. Louis Park".
His younger brother Robert followed him into the military. However, Robert, his bomber named "Liberty Belle" and their crew were shot down in 1943 - all but one man was lost in the North Sea.
As was the custom, the crew gave their B-29 a nickname - it was considered to be bad luck to name plane after one that went down so Anderson asked his crew if he could name their B-29 "Liberty Belle II" in honor of his brother.
After the war, Anderson wanted to make the military his career, however with the loss of his younger brother, his father asked him to return home to run the family business.

Gordon and his wife Marian have 3 children: Caroline, Robert and John and 6 grandchildren.
He owned and operated Sundseth-Anderson Funeral Home in North Minneapolis until his retirement in 1981. He was a member of the Northside Commerical Club, North Minneapolis Exchange Club, Ebenzer Society Board, Zuhurah Flyers, American Legion Westphal Post # 251 and several other organizations. He was "Mr. West Broadway" in 1973 and received WCCO Radio's "Good Neighbor Award" when he served as Chairman of the North Minneapolis Summer Festival in 1968.