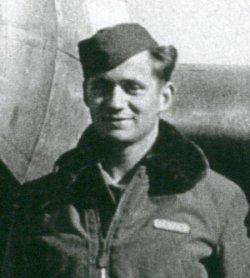 Donald M. Evans
Herington, KS 1945

Don Evans was born into the sunlight on a rural farm in Iowa on April 29, 1922, a typical mid western childhood forged from the good sound values and principals of hard work, honesty and moral steadfastness. A path that lead the boy into his place of manhood.

When the ugly specter of war threatened the world he did not hesitate, joining the Army Air Corp in 1940. he had always been good with his hands, no farm machinery could get the best of him .. and army used that skill.

As an Engineering Officer of the crew he flew 29 missions and received the Distinguished Flying Cross for his commitment and bravery. He was a willing yet quite warrior. He never boasted of his achievements, he was far too humble for that… bragging was not Don Evans.

Don's expertise with all things mechanical set the stage for a career that lasted over 40 years. And even in his off time friends and neighbors called upon Don to help them fix all manner of things. He never said NO! NO, just wasn't in him. He always tried to do the right thing.

After the war he and his wife Helene married and moved to Albert Lea MN. Don worked for his brother as apprentice mechanic.

Don and Helene have a son that was born in Albert Lea, MN in 1946.

Finding the climate their not to their liking they moved back to California in the Sacramento area.

Don worked for Aerojet, working on the Polaris and Minute Man mission projects for 5 years. His first love however was working on automobiles. He worked up from mechanic to the production manager for the largest Chevrolet agency in the Sacramento area retiring in 1986.