Born: 30 June 1923
Died: 14 December 2002

The son of Elmer C. and Elva M. Elvgren, Bud had one sister named Donna.
His father worked as a grain elevator operator all his life and his mother was a housewife.
As a child Bud would mow lawns like many other kids his age - taking care of 7-10 lawns.
He started collecting stamps around the age of 8 or 9 until about the time he entered St. Paul Central High School then started becoming interested in sports - swimming and golf.
In September 1941 he attended University of Minnesota
He enlisted in the Army February 23, 1943, first going to Jefferson Barracks, St. Louis for approximately 6 weeks then to Washington University for 8-10 weeks of training followed by a 7-day trip on a troop train to Santa Anna, CA for 6 weeks of Preflight Testing. This is the time that the AAF decided Bud should be a pilot based on his tests.
From here Bud went to Kings City, CA for 9 weeks of Primary Flying School most of which was on a Ryan single low wing. He graduated early 1944. Kirtland Field for B-24 Transitional School Training, which lasted a couple months Bud, recalls. There they simulated bombing missions lasting 7-8 hours.
While at Kirtland, there were approximately 275 men in his class when it many of them went over to Europe - however there remained about 25, including Bud to received orders to Lincoln, NE to be assigned as B-29 pilots then to Great Bend, followed by Salina, KS at Smoky Hill Army Air Field. Elvgren and his crew trained at Batista as many of the other 39th BG Crews.
Once returning to Salina it was on to Herington to pick up the crew's new B-29 then to Guam via Mather Field, John Rogers Field, Hawaii, Kwajalein arriving at North Field just as part of the first runway was being completed.
On their first combat mission to Koriyama as they broke through the clouds, Crew 28 found themselves alone in the middle of Tokyo Bay; after finding the target and dropping their bombs, fighters gave pursuit and suddenly turned away as the crew looked out their side window they saw the fighters had turned away because of the oncoming squadron to drop their bombs on the target.
Bud also recalled on an Osaka Mission where they were badly shot up and had to crash land at Iwo Jima - luckily it was raining hard; they had to belly land due to damage to their landing gear onto the muddy runway. About 5 days after their return to Guam they received their 2nd B-29.
He flew approximately 30 missions - never missing a single one assigned.
After the War
Married: Margy Lee Bohannon September 3, 1949

Children: Anne, Joan Carlson and Alex Elvgren (deceased)
Hobby into Occupation
Bud started stamp collecting as a boy and in the seventies became a dealer in Philatelic materials specializing in Postal History and Autographs. This took us to stamp shows all over the country, and to London, Paris and Vienna.
Hobby in the Sixties
In the 60's Bud gained an interest in painting and did some wonderful (to us) things. His cousin Gil Elvgren lived on Siesta Key in (Sarasota, FL) and was a rather well known illustrator and calendar girl artist.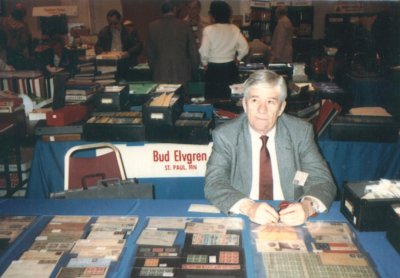 1990 Stamp Show
Graham "Bud" Elvgren was interred 30 June 2003 (which would have been his 80th birthday) with a military service at Fort Snelling National Cemetery in
St. Paul, MN.
The Elvgren Family can be contacted via email by clicking here