When Pearl Harbor was bombed in 1941, Thomas Calvin "Red" Roberson was a senior in the Delight, Arkansas High School. His little sister, Vera Frances, was in the first grade. She wrote in correspondence that when Red graduated in May, their parents ordered two brand new suits for him from the Sears and Roebuck catalogue . . . one for the prom, and one for Baccalaureate and graduation. The suits cost $15 each at a time when their father was earning $11 a week. Red's parents were proud of him and wanted him to look his best.
On graduation night, the auditorium was draped in red, white and blue streamers and American flags. All the mothers cried because the entire class of boys would volunteer for service the next day.
Red first went to the Navy recruiter who turned him down because he didn't weigh enough. The old doctor who gave his physical said, Son, you go home and eat a lot of cornbread and butter, drink a lot of sweet milk and come back in the fall. Red was so angry with the Navy for rejecting him that, come fall, he volunteered for the Army Air Corp instead.
The family was living in Hot Springs then, and through the summer, Red worked as assistant to an ambulance driver. He was to report for duty right after Christmas, just a few weeks before his eighteenth birthday. The war was going badly. His friends and relatives knew he would be in the thick of it very soon. He insisted on going alone to the bus stop and walked down the street, carrying a book under his arm. Red's mother cried for weeks, saying over and over again, "He looked just like he was going off to school."

This is how Red Roberson came to become the tail-gunner for Crew 37 of the 39th Bomber Group. He made 32 missions over the South Pacific from their base in Guam and came through the war without a scratch.
By the time the war was over, Red's family had moved to El Centro, California. He moved in with them, went to junior college by day and drove a taxi by night. He played football, but was so small he was constantly being clobbered on the field; had his nose broken twice and got one of his front teeth knocked out. Later, he returned to Arkansas and played football at Ouachita Baptist College in Arkadelphia. During this time, Red served in the ROTC. As a member of the ROTC, he knew he could be called up at any time, for any branch of service, as a "filler." He graduated with a degree in English, secured a teaching job at an Arkansas junior high school (where he was also the basketball coach), but just a couple of months into the term, he was called to serve in Korea as a Second Lieutenant, Infantry.
Red often said that it was there in the frozen, muddy trenches on the Korean Peninsula that he set his sites on flight school.
Red's sister, Vera, writes, "We were very proud of him, and he was handsome in his uniform . . . curly red hair, gray-green eyes, a lop-sided grin and lots of freckles. He was quick-witted, loved to tease, had a scrappiness about him that got him in trouble sometimes, and had a jaunty walk. He was a wonderful big brother to me. He tried to teach me to jitterbug, and he was great at it!!"
Thomas C. Roberson enlisted in the Army Air Corps on 20 November 1943 at the age of 17 yrs old, at the time a resident of Garland County, Arkansas.
After WWII, he returned home and attended Ouachita Baptist College in Arkadephia, Arkansas on the GI Billl, active in ROTC and the Reserves. After graduation he taught High School English then returned to active duty with his commission.
His various stations include:
Korea
Ft Leavenworth, KS.
Ft Rucker, AL.
Heidelberg, Germany
Ft Bragg, NC.
Ft Sill, OK.
He was hospitalized at Fitzsimon's Campus in Aurora, CO. with lung aliments for 6 months
He returned to Ft Leavenworth
Vietnam
Ft Rucker, AL.
He married his wife Jolene – they have 2 daughters – Thoma who was born while on their first assignment to Ft Rucker and Robin while stationed in Heidelberg, Germany.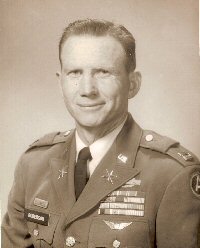 Thomas C. Roberson LTC, Retired
Ft Rucker, AL. May 1969
Roberson retired from the military in 1969 at the rank of Lieutenant Colonel, having earned the Distinguished Flying Cross, the Bronze Star Medal, the Army Commendation Medal, the Air Medal with 2 Oak Leaf Clusters and his Master Aviation Badge during his military career. In civilian life, he owned his own insurance and reality business in Leavenworth, KS. Later he managed the pro shop at the Ft Leavenworth Officer's Club which gave him a chance to play golf daily (for free) as well get paid for something he loved. At one time he held a 4 handicap. He had the opportunity to play golf then Commanding General of Ft. Leavenworth – Colin Powell. However he had to give up the game in late 80's due to sciatica. He was also a commercial fisherman on the Missouri River; He was an avid boater. He also was a beekeeper.
One bee story recalled by his youngest daughter Robin is:
In 1977, when I was 19 years old, Dad asked me to help him rob a wild beehive. He knew someone up in Highland, KS who said there was a huge hive in the hollow wall of an abandoned farmhouse. Dad was always anxious to add another hive to his collection. Back then, through the Sears catalog, one could buy all the necessary paraphernalia, including a new Queen Bee. We gathered up all of our junk in his green Dodge Dart and headed off to Highland.

The actual transfer went off without a hitch. We suited up from head to toe: pithe helmets, nets, coveralls, sting-proof gloves and boots. We placed the Queen Bee inside the new hive and started smoking out the bees with a set of bellows. The swarm was intense; the bees were furious. After we got a good portion of them into the new hive, Dad nailed it shut and loaded it into the trunk for the trip home.

About halfway home, we hit Atchison, KS. Dad was having a Dairy Queen craving and we saw one, so we pulled into the lot. I said I would stay out in the car and listen to the radio while he got the cones. While he was inside, I noticed there was a bee on the dash. No big deal . . . with one bee, if you just leave it alone it will probably leave you alone. Then I heard a buzz around my head and saw a couple more bees flying about the cab. I turned toward the back seat. To my utter horror and astonishment, there were more bees squeezing in through the audio speakers. I ran inside to warn Dad about the developing crisis.

After all the trouble we went through, Dad was determined to save the mission. We went back out to the car, which was now visibly full of flying insects, carefully opened the back door and quickly pulled out our bee suits from the back seat. We headed for the public restrooms to suit up. Coming back out to the car, there was a bottleneck of rubberneckers forming in the parking lot. I think they thought we were with Haz Mat.

With each mile, the swarm inside the cab of Dad's car grew thicker. Every trucker we passed blew his horn and curious passersby's pointed and honked at us. At times, I had to flap my arms in front of the windshield so Dad could see where he was going. When we finally arrived in the driveway of the family home, Mom ran out outside in a panic, having see the strange sight from the kitchen window.

"Get out quickly and I'll take it from here," were my last orders from the Beekeeper. Mission accomplished!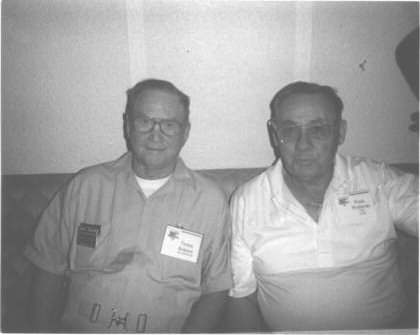 "Red" Roberson (left) with his crewmate, Frank Wrublevski, LG
Aug 1992 Seattle, WA - 39th BG Assoc Reunion