[Search Tip: Use " " for better search results ex. "John Q. Doe"; "City of ..."]
The following photos, unless otherwise noted are part of the Luther A. Jones Collection, courtesy of the Aviation and Military Museum of Louisiana
Major Luther A. Jones, Airplane Commander
Taken: June 1945
L to R:
Major Luther A. Jones, AC
1st Lt Charles J. Holt, Bombardier (Tim Holt)
WAR BUDDIES MEET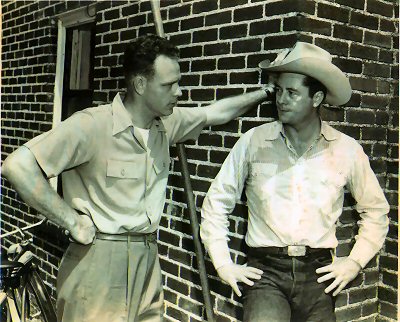 Lt Col. Luther Jones, Monroe, talks things over with Tim Holt, western movie star, who visited West Monroe last Thursday morning. Jones served as pilot on the B-29 City of Monroe, with Holt as bombardier for six months in 1945. Friday night Jones went to Alexandria (LA) as a guest of Holt's at a rodeo performance. Jones reported Holt as anxious to bring his rodeo Monroe next year, even promising to get other Hollywood stars to make personal appearances for a special, allout show for Monroe residence.
The above text photo appeared in news clipping - no date listed. To view the actual clipping click here.
L to R:
Luther A. Jones, Lt Col USAF Ret, AC; reunited with Herb Greer, his Radio Op. Ron Greer, center is Herb's son.
Photo taken at the Aviation and Military Museum of Louisiana - Monore Veteran's Day Festivities 2004