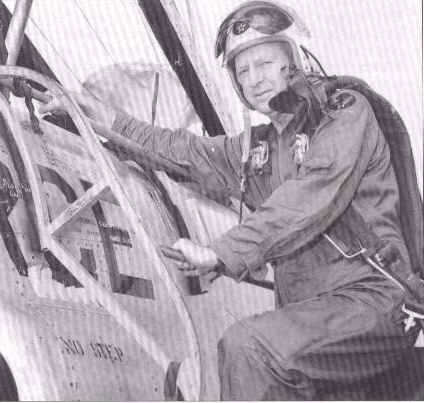 General Mundy boarding F-106, which he flew at Mach 2.07
George W. Mundy was born on August 7, 1905 in Cedartown, Georgia, a town located in the northwestern section of the state. The Mundy name is still prominent in Cedartown today. A nephew, George E., is a senior member of a prominent law firm there.
George attended Emory University in Georgia through the 1923-24 session. He war then appointed to the United States Military Academy at West Point, from which he graduated with a BS degree in 1928.
Among his classmates at West Point was William Tunner, prominent in the Air Transport Command during World War II. He gained further distinction in 1948 for his role in setting up and commanding the Berlin Airlift.
Other classmates included Emmett "Rosie" O'Donnell, Ted Landon and Sam Anderson, all of whom became outstanding Air Force leaders and attained a four star rank.
Mundy fondly remembers many other good friends from those early days, all of whom would reach prestigious positions in the Air Force - "Possum" Hansell, Tom Power, "Shorty" Wheless - and Kenneth Wolfe, though he was a few years older.
After graduation from the Academy, George Mundy was commissioned a Second Lieutenant in the Field Artillery on 9 June 1928. In July of that year, he entered pilot training at Brooks and Kelly Field, Texas. At Brooks he flew the PT-3 and the DH-4, and at Kelly he received his advanced training in the P-l, A-3, B-2 and 0-1. Upon completion in 1929, he was transferred to the Army Air Corps.
While at flying school, Mundy met and became lifelong friends with fellow classmate, Curtis LeMay. Destiny would reunite them again on 17 March 1945. On that date, Mundy would become leader of the 39th Bomb Group on Guam under LeMay who had been named 20th Air Force Commander only two months earlier.
On 2 March 1934, George was promoted to the regular Army rank of First Lieutenant. This first promotion was followed on 9 June 1958 was followed by another elevation in grade to Captain in the regular Army.
Other promotions came regularly. On 1 February 1941, he gained the rank of Major, Air Corps, followed by Lieutenant Colonel on 23 January of the following year. On 9 May 1942, he became Colonel, Air Corps, and finally on 28 August 1943, he attained the rank of Colonel, AUS.
His first assignment upon graduation from pilot training school was as squadron officer with the 13th Attack Squadron, 3rd Attack Group, Fort Crockett, Texas. He held this position from October 1929 until September 1930, when he entered the Army Air Force Technical School at Chanute Field, Illinois. Upon leaving there in April of 1931, he rejoined the 3rd Attack Group at Fort Crockett.
In 1934, First Lieutenant Mundy married Suzanne Buck, a daughter of Major General E. B. Buck, a West Point graduate and World War I hero. Buck had entered the war as a Colonel in charge of a Regiment, was soon elevated to Brigadire Commander, and finally was given a division serving directly under General Pershing.
The Mundys had a daughter, Janice, who in keeping with her military heritage, went on to marry an Air Force doctor. They had four daughters and A son, and at the moment General Mundy has five great-grandchildren.
An exciting and memorable experience occurred in the earlier days of George Mundy's career:
In or about 1934, President Franklin Roosevelt suddenly cancelled all air mail contacts and ordered the Army Air Corps to take over these routes. Lieutenant Mundy's assignment was the mail run from Omaha to Cheyenne to Salt Lake City and return. His aircraft was a primitive two place open cockpit A-12.

On a cold, wintry day, he ran into inclement weather on the Cheyenne to Salt Lake City leg of his route. Better judgment persuaded the young pilot to return to Cheyenne. While in the midst of unloading his mail for transfer to rail shipment, a fellow flier flew in from Salt Lake City. This persuaded Mundy to give it another try. Once again, he ran into nasty conditions, but rather than turn back a second time, he dropped down to a very low altitude with the intention of flying visually along the railroad tracks leading into Ogden, Utah, and then continue on down to Salt Lake City. However, the ceiling continued to drop lower and lower, and as he rounded a turn, he ran headlong into a raging snowstorm!

The steep sided canyon was too narrow to make a 180-degree turn, so the only option was to climb sharply on instruments. He had managed to reach 10,000 feet (fortunately), when his gyro instruments and air speed indicator both froze. Without visual reference or operable instruments, there remained no way to fly the airplane!

Today's aircraft all have heated pitot tubes to prevent freezing, but this was 1934 and instrument technology was in its infancy.

Only by extreme daring and willpower did he manage to take both his hands and feet off the controls and let the airplane fly itself - praying that it would climb upward rather than pulled downward.

Fortunately the altimeter was still operative so he was able to keep a close watch on his altitude. If that too had failed, there would have been no choice but to bail out into the cold and hostile terrain below an action that would have, most likely, had a tragic ending.

After what seemed to be an eternity of uncertainty, the A-12 wallowed up to around 13,00O feet - then broke out above the cloud mass. Once on top, Mundy struck a course for Salt Lake City. Since the weather there was VRF there was no problem in landing safely. This had been an exhausting, as well as nerve-wracking ordeal. Old "Mother Earth" never looked any better.

On the bus taking him to the hotel. Lieutenant Mundv related to a friend his harrowing experience. It was decided that a good stiff drink might help - and it did. Mundv flopped onto the bed and immediately fell asleep for the following 24 hours! There was no insomnia that night.
In January 1935, he departed for the Philippine Islands, where he became a Squadron officer with the 2nd Observation Squadron of the 4th Composite Group at Nichols Field.
The following ten years saw many transfers and new assignments for the young Air Corps officer. From December 1936 until January 1939, he was a staff officer with the 3rd Attack Group then stationed at Barksdale, La.
In January 1939, he entered the AAF Technical School at Maxwell Field, Ala. From October of that year until July 1941, he was a Squadron Commander and staff officer with the 23rd Composite Group, first at Maxwell Field, and later at Orlando, Florida.
In January 1941, he was sent to London, England as a military observer, returning in October of that year. He was then given command of the 23rd Composite Group at Eglin Field, Florida. He was relieved of this assignment the following month to become Commanding Officer of the Air Corps Proving Grounds at Eglin Field. He remained in this position until April 1942 when he became CO of the Twin Engine Fighter School at George Field, Illinois.