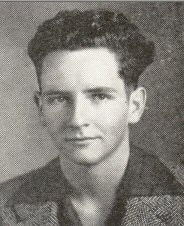 James Francis Day II
Senior Photo - Burbank HS
Courtesy of Linda Mustion
James Franics Day was born March 16, 1924 to the late Leo & Marie (Ladue) Day in Chicago, IL. He and his fmaily moved west when he was two to settle in Southern California. Jim was educated in Southern California where he graduated from Burbank High School, Class of 1941.
Shortly following his graduation Shortly following his graduation he was inducted in to the armed forces where Sgt. James Francis Day II served his country honorably as a member of the Army Air Corps in the Pacific Theater as an aircraft mechanic.

Upon Jim's discharge he returned to school where he graduated from the University of Southern California with a BA in accounting. While attending college he met a pretty young coed named Mary L. Schwab and as their love for one another blossomed, they were united in matrimony on June 14, 1952, in Sherman Oaks. To this union one son and four daughters were born.

As a CPA for over 23 years, Jim went to work for an accounting firm out of college before entering practice for himself in 1963. He retired due to health concerns in 1985.

Jim and his wife purchased a home on the Lake Almanor Peninsula in 1983, later moving to Chester. Prior to residing in the Lake Almanor Basin, Jim and his wife had been longtime San Diego residents. Jim enjoyed working with wood as well as collecting stamps and coins.