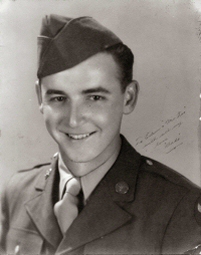 Aug 2, 1918 - Jul 25, 1986
Enlistment:
12-14-43
Entry into Active Service:
1-12-44
Place of Entry:
Fort Dix, New Jersey
Battles and Campaigns:
Air Offensive Japan
Eastern Mandates
Western Pacific
Decorations and Citations:
Good Conduct Medal
American Theatre Ribbon
A-P Ribbon w/3 Bronze Stars
WWII Victory Medal
Service Schools Attended:
3705 BU Lowry Field, Colorado
Power Operated Turrets & Gunsight Specialists (Mechanic)
Overseas Service:
Guam, 2-18-45 to 9-20-45
"Ted" enlisted in the Army Air Corps in 1943. His time in the Air Corps was one of the defining experiences of his life. He wore his Army boots to do yard work well into the fifties, and as a kid I remember reluctantly being awakened on Saturday mornings to the booming call of "All out, 39, up and at 'em."
My dad wasn't one to reminisce, but I do recall some funny stories he told. One such story was about the time a Japanese soldier snuck on base to surrender, but had the good sense to wait until a G.I. in a latrine had his pants down around his ankles before the enemy soldier felt it was safe enough to confront him. And another story about the time a B-29 with locked landing gear was forced to make a belly landing… with a bomb bay full of scotch … flooding the field. And how, to break the boredom, they used to hold rat-throwing contests, hurling dead rats by the tail to see who could toss the farthest.
On the serious side, I recall my dad telling me how surprised and incredulous he and his buddies were when they heard about the dropping of the atomic bomb. Security had been so tight that neither he nor anyone he knew with the B-29s had suspected such a weapon existed.
Ted enlisted with dreams of flying, but a peripheral vision problem disqualified him. He was assigned to a Central Fire Control ground crew. He told me that he spent most of his time helping to load bombs because the B-29 turrets needed minimal maintenance. The Zero, it seems, had neither the ceiling nor speed to make more than a single pass at the Superfortress.

He did have one opportunity to fly. The pilot of his first plane promised some informal, unofficial lessons following his next mission. Tragically, the plane never returned.
After the war, Ted took advantage of the G.I. Bill and studied at Columbia University in New York and became an accountant.
Participation in the VFW became a lifelong activity. He served several times as Commander of the Mohr-Christie Post #158 in Hoboken, N.J. Rain or shine, he never missed decorating graves on Memorial Day.
In 1939 he married his high school sweetheart, Eileen Cecilia Burke. They remained together until her death in 1968. They had one son, Gerald. In 1969 he married Maria Antonia Sirotak. He passed away of heart failure on July 25, 1986.
Theodore Pflugh, (1st row left) and his comrades in Hawaii enroute to Guam.
Theodore Pflugh, (3rd from left) and his comrades in Hawaii enroute to Guam.
unknown (left) and "Ted" Pflugh on Guam