[Search Tip: Use " " for better search results ex. "John Q. Doe"; "City of ..."]
"City of Atlanta"
B-29 # 44-69788
39th BG in formation
The tail of P-29 can be seen above (right); the other 39th crew is unknown as the photo could not be enhanced enough to read the crew number. The above photo was taken April 10, 1945 over the Maug Islands. Click on the photo to enlarge.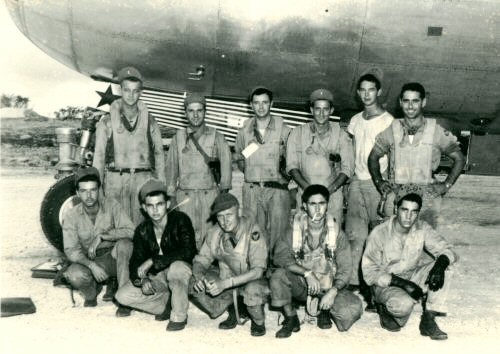 Photo from Crumm Collection
Standing L to R:
1st Lt
Walter Fauverso
Flight Engineer
1st Lt
Sam Anello
Bombardier
Capt
Raymond "Rick" S. Ferrell
Airplane Commander
1st Lt
Jack Guinther, Jr.
Pilot
1st Lt
James Green
Navigator
1st Lt
Frederick Rice
Radar Observer
Front Row L to R:
S/Sgt
Paul Faust
Right Gunner
S/Sgt
Donald Morris
Radio Operator
T/Sgt
Frank B. Taylor
CFC Gunner
S/Sgt
Lester P. Fauver, Jr.
Tail Gunner
S/Sgt
Bernard F. Ferrara
Left Gunner
Crew 29
Honor Roll

Capt Raymond "Rick" Ferrell

Airplane Commander

26 April 1996
T/Sgt James F. Finlay

Crew Chief

08 September 2004
T/Sgt Frank B. Taylor

CFC Gunner

24 May 2005
1st Lt James G. Green

Navigator

13 October 2009
1st Lt Walter E. Fauerso

Flight Engineer

20 March 2010
S/Sgt Lester P. Fauver, Jr.

Tail Gunner

29 September 2015
Update:
11 October 2015: Added S/Sgt Lester P. Fauver, Jr. to Crew Honor Roll. Thank you to his friend and former co-worker, Herman Wilkins.

61st Squadron Crew Index