[Search Tip: Use " " for better search results ex. "John Q. Doe"; "City of ..."]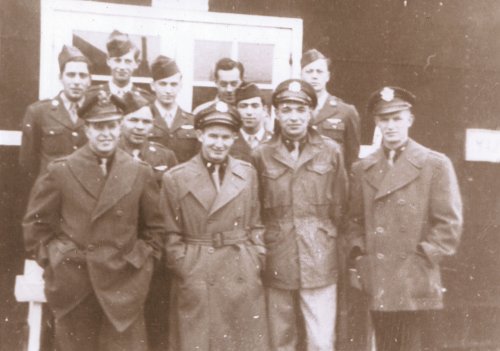 Taken at Salina, Kansas
Photo courtesy of David Hirsch
L to R Back Row: Sgt Richard Wildman, CFC Gunner; Sgt Richard J. Sloane, Radio; Sgt David L. Hirsch, Left Gunner; Sam Worrell, Tail Gunner; Jesse Ausborn, Flight Engineer
L to R Center Row: Sgt Paul P. Trujillo, Right Gunner; William Weinstein, Radar
L to R Front Row: 1st Lt Benjamin L. Powell, AC; 2nd Lt William F. Blackinton, Pilot; 2nd Lt Leon Tomberg, Bombardier; Davenport, Nav.
The following transferred: Davenport, Richard Wildman, Sam Worrell and William Weinstein. Wildman, Worrell and Weinstein are not listed with any other crew of the group nor do they appear on the Squadron Rosters of Sept 1945. The first name of Davenport is unknown; Crew 41 and Crew 47 both had a Davenport as Radar Observers.

Roberta Keele, daughter of Crew 41's 1st Lt Carl L. Davenport confirms that the person pictured above is NOT her father.
If you can help answer this question, email: updates@39th.org