[Search Tip: Use " " for better search results ex. "John Q. Doe"; "City of ..."]
2002 Reunion Dayton, OH
Dedication 39th Plaque
USAF Museum
On 23 August 2002 the 39th Bomb Group (VH) plaque was presented to the United States Air Force Museum for their Memorial Park.
USAF Museum liaison introduces 39th Bomb Group Association President Jim Wyckoff who was master of ceremonies.
On the left base chaplain offering a word of prayer in memory of those who this plaque is so dedicated; on the right Bill Costa, Nav (P-30) and Association 1st VP Bob Weiler (to right of memorial) prepare to unveil our group plaque.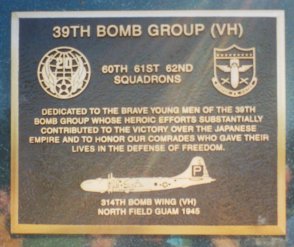 On the left P-06R's Col Hollis Logan, USAF (ret) officially presents the plaque to the museum; accepting the plaque is Maj Gen Charles D. Metcalf, USAF (ret) Director of the USAF Museum.
If any has photos from the 2002 Reunion they would like share email updates@39th.org